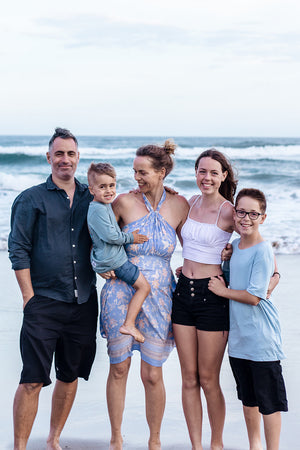 Thanks for being here mumma
This is my family, this is us at our happy place - the beach.
I started Mumma's Beans because I wanted to take some of the guilt away that burdens so many of us.
I first became aware of what #mumguilt is when I fell pregnant and started questioning myself, was it safe to eat my favourite cheese, can you drink coffee during pregancy, was it okay to still ride my bike to work?
Being coffee obsessed, I started looking for a brew that I could drink when pregnant, a low caffeine coffee or low acid coffee.
But all I could find was tough looking high caffeinated brews designed by men for men.
Surely I wasn't the only mum who wanted to drink a delicious coffee while pregnant and breastfeeding without feeling guilty?
It was the start of my idea for Mumma's Beans Coffee.
When it became obvious our overseas wedding in 2020 would be cancelled because of COVID, I turned my energy from wedding planning to starting a business. Instead of Europe, we travelled to coffee growers in Northern NSW to find our Mumma's Beans coffee producers. And before the end of the year Mumma's Beans had its first local stockists and subscription customers.
And yes, we still got married, more than two years later. Not overseas with a big crowd, but here in Wollongong on a weekday only with family and a few of our closest friends.
It was perfect.
So this coffee is for you mumma. If you're worried if you can have coffee when you're breastfeeding, pregnant, trying to conceive or are otherwise sensitive to caffeine and additives, I'd love for you to try our beans. Don't wait to have your time again, your time is now. And looking after you is important, too!
And because our coffee is rich in antioxidants that are amazing for your skin, too, we recently launched our coffee infused skin care for glowing skin making you feel amazing inside and out.
Skin care that is 100% made with Australian ingredients, all natural so if your little one wants what mummy has - she can.
If you read this far - thank you! For being here, for your time.
x Maika
Is there something we can do for You?
We'd love to hear from you.